Today we are going to talk about the charges for Pacific Gas & Electric. We will look at it line by line so you walk away with a better understanding of what the charges are and how they are calculated. Our breakdown will be the example. We will break the charges down into 4 sections: dates and meter reads, daily charge, usage, and fees. Here are the links to the latest PG&E standard and CARE rates. Let's look at them one by one.
This is where your meter reads for the period and the dates they were taken on are found. They should be read between 26 and 35 days each cycle. Anything outside of that is considered unpredictable and hard for residents to budget for. Another fun fact about meter reads is that they should not vary more than three days in either direction from cycle to cycle. For example, the read cycle for last month was 31 days and the read cycle for this month is 35 days. Best practices say this month should stop between 28 and 34 days. That still gives you plenty of time to get the reads done around vacations, bad weather, and any other issues that crop up.
The meter reads show the usage in kWh for the billing period. Meter reads are photographed each month so they can be referred back to as needed to resolve resident questions. We have recommended this to many of our clients that read their own meters and they have found it invaluable in handling resident disputes on usage or lock outs. Most of the time, meters are read via pen and paper, photograph, or handheld device. The error rate is a little lower when transcribing pictures over pen and paper or handheld device because the person is doing it inside a comfortable office with minimal distractions. The pictures come in handy during utility checks, or when everyone's usage and billing is reviewed. If someone has 1,000+ kWh on the meter in December we can go back and verify the read internally before posting.
In order to ensure every customer served in their area contributes to the electrical infrastructure, PG&E has a Minimum Bill Charge. If a customer's usage does not exceed $10 on the standard rate plan or $5 on the CARE plan, then they will be billed the minimum bill charge in addition to generation on their usage charges.
The usage charges are the tiered charges and bring in your baseline zone allocation. We talk more about baselines here. PG&E bundles the generation and delivery charges for ease of understanding your bill. Your daily baseline allocation is listed with the meter reads and dates. It is calculated by multiplying your allocation by the number of days. For example, your daily allocation is 7.0 and there are 30 days in the month. Your monthly baseline amount is 210. That means that you have 210 kWh available at the baseline rate (usage at the lowest price). From there, we multiply your baseline allocation by 4 to get the top of the second tier. 210 * 4 = 840 kWh.
So, your usage tiers are: baseline tier from 0 to 210, non-baseline tier from 210 to 840 and, your high usage tier is any usage above 840. The current rate on the baseline is $0.21169 for standard and $0.13453 for CARE. The maximum charge for the baseline in this case is $44.45 on standard rates and $28.25 on CARE rates. The second tier rates are $0.27993 for standard and $0.17767 for CARE. The maximum charge for the second tier is $176.36 on standard rates and $111.93 on CARE rates. There is no limit on the top tier and the rates are much higher. $0.43343 per kWh for standard and $0.27510 per kWh for CARE.
Generation charges are the cost of generating power via nuclear, wind, solar, and any other methods currently employed to create electricity for residential consumption. These are bundled in with the delivery and called usage rates.
The final section of your electric breakdown is the fees section. These include the DWR Bond Charge, the Public Purpose Programs (PPP), and the State Tax. All three of these charges are billed by kWh used. As a sub-metered utility billing company creating bills for California, we are required to break out the DWR Bond Charge and PPP as separate line items. The DWR Bond charge and State Tax are only charged to standard rate customers and can be found on the 2nd page the rate sheet under DWR Bond. PPP has standard and CARE rates and can be found on the 2nd page as well. I did not deduct them from the above example so it would be easy for you to match the numbers. On a real statement, however, the standard delivery tiers would all be $0.00549 + $0.01413 = $0.01962 less than what is listed on the rate sheet. The final figure, the State Tax is billed at $0.00029 per kWh on standard rates only.
Here is the tricky part. When the rates change, we do not have the space to create two separate electric breakdowns to accommodate the different charges. Instead we do what's called rate blending, which is calculating the rates based on the days each is applicable in the read cycle. If you are trying to match up the rates and it isn't quite working, you may need to wait until the new schedule takes over completely before your numbers match perfectly again.
Here is a sample of what our PG&E breakdowns look like. Standard and CARE.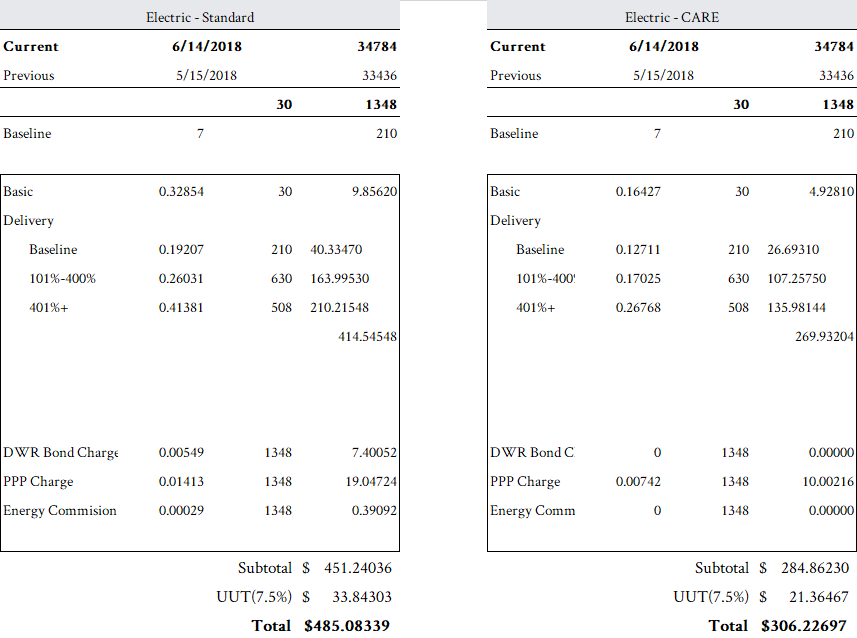 The last item you see on your electric bill is the CA Climate credit. This credit appears on master meter bills in April and October. We wait until it hits the master meter bill before passing it on to residents so you will see it a little later depending on when the bill gets forwarded to us. This item though, will show as a line item in the center section of the bill below the rent and other charges. Our system doesn't carry over credits on just electric so the whole credit is applied at once.
A final charge that you may or may not see on your statements is the Utility Users Tax (UUT). This is a tax that is determined by the cities and counties in California. Money collected through this tax may be used for special purpose project or general items as approved by local city councils. Cities UUTs range from a low of 1% to a high of 11%. As for changing the tax amount, Prop 218 states that voters who would be paying the tax must approve it through a ballot measure.
So we talked about daily charges, how tiers are calculated and what rates are used, the differences between standard and CARE rates, fees, rate blending and the CA Climate credit. I hope this helped you gain a better understanding of your electric bill and the various charges on it.