Tell me if this sounds familiar:
I opened my water bill and had the highest bill I've ever gotten. The previous month had been the highest, but I accidentally ran the sprinkler in the backyard on high for over an hour while I took care of other things. Oops! My bill jumped $50. Has your utility usage ever jumped up like that?
I owned the sprinkler incident and made sure I set timers when I watered and TURNED IT OFF when the darn thing beeped instead of ignoring it to continue working
We bought a big, inflatable kiddie pool for summer fun. When I realized my youngest princess loved dumping sand into it in the morning and then wanted to swim in the afternoon, I needed to make sure that I wasn't running my bill right back up again every time I washed and refilled it. I checked my meter read, trooped to the back yard, washed it and filled it, and then got my new read. According to my calculations (which better be right since I do this for a living) it costs about $0.50 at the top tier each time I filled the pool. I can live with doing that a few times per week.
So, I did all the things you do when you get a reality check on your utility bill and made sure we were on track for getting back down to 9 to 10 units instead of 29. Well, I did everything but walk my tookus outside and check the meter every few days to make sure all was right in the kingdom.
Well, here we are, and I had a heart attack when I opened the $182 water bill. How the heck did we run up all this water? NEVER in my life have we had a water bill that high. It's not even the dollar amount, it's the utility usage. 39 units?! That's nearly four times our usual. Maybe I played a little fast and loose last summer and bumped it up to 15 units for July and August because we're in the desert and it's too hot to move after 10 am for months. But still, 39? Forget it. I know we put in a patch of grass in the front, but it was a patch, not an acre! This has got to stop! I checked my meter right away and we already had another 29 units from our read date 21 days ago. We were using more than 1 HCF per day in water! That is impossible! Right?!
I decided to analyze our utility usage to the point of being ridiculous to figure out what the heck was going on. Toilet flushes were the only thing that didn't get measured the following week. I made about a million trips out to the meter and the chart below is what I came up with.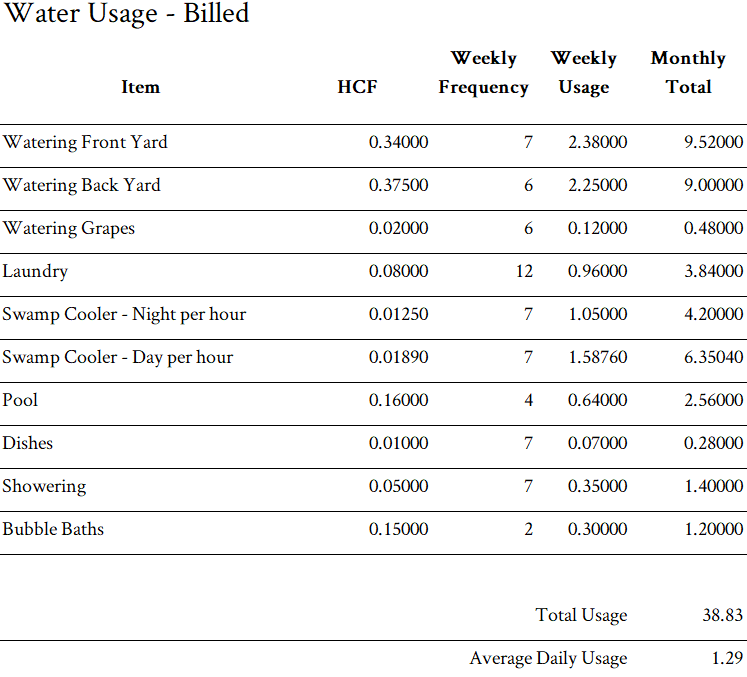 The watering of the front and back yards is a HUGE hit. Sacrifices must be made. Sorry Princesses, the Enchanted Bamboo Forest is in drought territory and Queen Mommy had to pass a conservation edict. We halved watering in the front because we wanted grass but not that badly. Watering in the back is now Princesses carrying pool water across the yard to the Enchanted Bamboo Forest. The squirrels hit the grapes pretty hard, so I decided I didn't need to worry too much about that anymore.
The next target on my utility usage hit list was the washing machine. My princesses love to play Royal Dress Up Party and I could not keep up with laundry. Between the actual dirty clothes and rewashes because I forgot I was still doing laundry, I ran 12 loads in a week! This time King Daddy issued the edict: One change of clothes per day. THE END. That dropped laundry back down to 3 loads a week and saved nearly 3 HCF of water a month right there. the royal bedchambers!
Another huge hit was that my youngest princess kept sneaking her snacks into the royal bedchambers and spilling them on the beds. Each bed requires two loads to wash blankets and sheets and that happened no less than three times in one week and more times than I can count over the course of the month. Yet another edict: No food in the royal bedchambers!
As I mentioned, our kingdom resides in the desert and it got very hot, very early. We enjoyed daily ultraviolet and excessive heat warnings pretty much all summer. The swamp cooler did its best to keep up but that required a lot of non-negotiable water to keep things . . . not miserable. We accepted the 16+ units of water a month with a smile. And yes, I did nightly checks to see utility usage over night with nothing going on, and then daytime checks when evaporation is highest. It worked out to 10 to 16 units a month because it's so darn dry out here.
Next was the princess's swimming pool. We just needed to trim that down a bit and keep the sand out of it. They can splash as much as they want for a few days and then we'll dump and clean it. We don't use a dishwasher, so this was as conservative as we could make it. Showering is non-negotiable and bubble baths happen no more than twice per week.
Here is our new monthly usage chart based on these changes.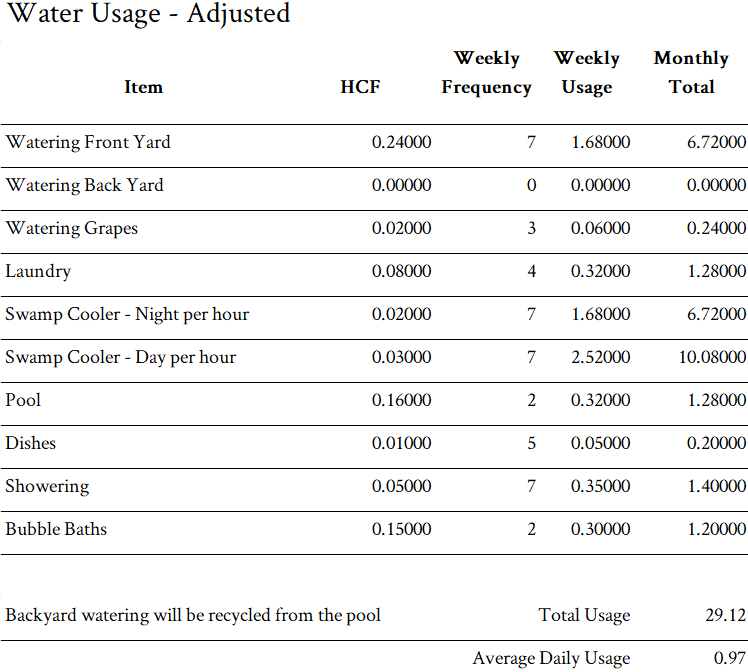 As you can see, there was no magic bullet that ran up the utility usage and we could fix for instant relief. It was a series of small decisions that led to a big bill – *ahem* 3 big bills – by the time it got sorted out. The next time you face a (surprise) big utility bill, I hope this story helps. Use the following steps to figure out what's driving up your usage:
Track, track track. Before you turn on the water (or electric or gas), take a read, then do what you need to do, and then take another read.
Figure out your weekly and monthly usage based on what you've tracked.
Decide what you can't live without, what you can trim, and what you can cut out.
How to Use the Utility Usage Trackers
To use the utility usage tracker, you will need to check your meter frequently. Okay, that's an understatement. You're going to be out there constantly. I left my water meter lid open because I have spider issues (ridiculous for a meter reader, but I just can't help it) and didn't want to reach in there 20 times a day.
As a good first step, make sure everything is off inside your home and then check you meter and make sure it's not recording any utility usage. Spinning disks on electric should be fully or nearly stopped. the little blue triangle on water meters shouldn't be moving at all, the numbers on the gas meter shouldn't be moving at all. If you're seeing movement where there shouldn't be any you might have a bigger problem. Otherwise, if all is still, continue with tracking.
Daily Usage Tracker
On the Daily Usage Tracker, under Item, enter what you're tracking: shower, TV time, oven time, you can use it for any utility. I would recommend using one tracker for each utility you wish to track rather than running them all on the same sheet. Keeps things tidy. Next, you're going to check your meter and write down the start number in the beginning column. Then, go do the thing and check the meter again. Write that read in the end column. Do the math and write that in the total column.
Record all digits on the meter except painted zeros at the end. As you can see from my chart, most of the usage is tenths of a unit. If you have a gallon meter, your numbers will look high, but that's okay because it's measuring each gallon. A single tick on my meter is equal to 7.48 gallons on yours, so don't worry. For example, that 0.02 for watering the grapes is almost 15 gallons.
Keep It Up
Follow those steps each time you use the utility (or as often as you reasonably can) for at least a week. Two would be better and a full month is ideal. You'll probably need several copies of the charts, but that's okay. We want to get a really good idea of what's going on and this is the best way to do so. You can be as picky as you like here. I recorded showers and bubble baths separately because there are a lot more showers going on, and I thought bubble baths used so much more water. I found out they are close to the same as a monthly figure – 1.40 for showers and 1.20 for bubble baths.
Do This Exercise Without Judgement
No beating yourself up over how much water or electricity or gas this or that uses. You'll naturally become more aware as you keep track and start using less anyway, so be kind. If you have kids that are old enough, send them out there as well. Let them learn about how their utility usage effects the bill and squeeze in a little extra math practice.
Average Utility Usage Tracker
After you have at least a week's worth of data, it's time to create averages for each time you do something. Enter the item name on the Average Tracker and add up the usage for each time you tracked an item. I included my data as examples but used the average figures. Expect your usage will vary from one event to the next. Not every shower will use the same amount of water, but you can get a good average over the course of the week so don't worry.
The next step is to create monthly data to get the big picture view and compare it to your current utility bill to see how it measured up. If your numbers are wildly off from the bill, check the read dates and think back. Did you have a party? Overnight guests? Kids home on break? Keep tracking. Maybe you have a monthly laundry date with all your linens over the same weekend. That would certainly drive up the bill but may not be accounted for in the first week.
Now that you've tracked all your utility usage and know where it's going, it's time to figure out what you can trim. As you can see from my example, we trimmed a lot of the outdoor watering and slashed laundry. If I had to rewash a load of laundry, I had to account for it. Since I'm perfect and absolutely never, ever, ever lazy, I couldn't have a paper trail stating hinting otherwise. I refused to start a load if I wasn't 100% committed to getting it out of the washer within an hour. Laundry costs plummeted from 12 loads a week to 3. See? Perfect! 😉 We also changed to filling the pool twice a week.
All these changes happened over the course of a month and our bill dropped to about 29 units. Still more than I wanted to pay, but between the swamp cooler and the grass, there wasn't a lot of wiggle room. Thankfully those are seasonal and have started dropping off. I'll have to adjust next year's budget to reflect the higher cost of maintaining grass. I've learned not to overdo it on pool time and to recycle water for the backyard, so it doesn't climb quite as high. You'll notice the utility usage for the swamp cooler went up from the original figures. It got even hotter, so it was using more water.
We covered a lot of ground in this article. The most important thing to remember is to be mindful of your utility usage. Are you leavings lights on when you don't need them? Running water when you could shut it off and then on again? When unexpectedly high bills arrive, track your usage for a week and see what's happening. Find the small decisions that lead to a big bill and reduce them, one by one if that's what you need to do. Remember, summer isn't the only time you see high bills. Winter is a big one if you run an electric heater or have gorgeous light displays in your yard or home. There's cooking and baking and dishes galore so be mindful!
Now that you know what your're using, would you like to know about the rates? We explain the breakdowns for Southern California Edison and for Pacific Gas and Electric. Do you know what electric heaters do to your bill?